Delhi,
"The COVID-19 pandemic has demonstrated the importance of global collaboration in vaccine research and development. As we continue to navigate this once-in-a-century public health crisis, we realize the importance of research to accelerate vaccine development, particularly for emerging pathogens." This was stated by Dr. Mansukh Mandaviya, Union Minister for Chemicals & Fertilizers and Health & Family Welfare as he virtually addressed the Global Vaccine Research Collaborative discussion on "Vaccine Research and Development: Building Consensus for Future Health Emergencies Prevention, Preparedness, and Response' a co-branded event under India's G20 Presidency organized by Dept. of Pharmaceuticals, Govt of India on the sidelines of the 3rd G20 Health Working Group Meeting, in Hyderabad today.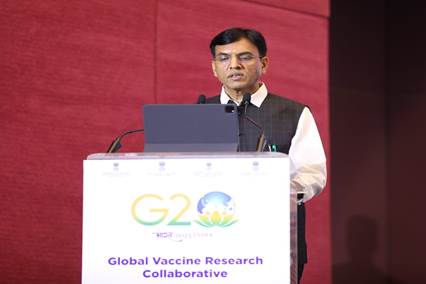 Speaking on the occasion, Dr Mandaviya said that the Global Vaccine Research Collaborative could be a much-needed mechanism to advance vaccine R&D for emerging pathogens. "As we embark on this critical mission, we must leverage the collective expertise of our global health community and strengthen our pandemic preparedness efforts", he said. He further stated that "International cooperation is essential to advance vaccine development for emerging pathogens, and the G20 can serve as a vital platform to facilitate collaboration between governments, research organizations, pharmaceutical companies, and other stakeholders."
Highlighting India's leadership in vaccine R&D for several decades, with experience in developing, producing, and distributing vaccines for diseases such as polio, small pox, and measles, the Union Minister said that India, as a leading player in vaccine production and distribution, can play a critical role in building greater global collaboration towards this goal. "The development and deployment of effective vaccines can help to mitigate the impact of pandemics, and we must prioritize research efforts to achieve this objective", he said.
Elaborating on India's initiatives to boost vaccine production and distribution, the Union Minister stated that "the government has provided financial incentives and streamlined regulatory processes to encourage vaccine manufacturers to increase their production capacity. It has also taken steps to ensure the availability of vaccines in rural areas by leveraging the existing infrastructure of primary health centers and other healthcare facilities".